JUNE 17:   Mother Nature is cooperating and we're playing our games.  It's the Dodgers vs the Mets at the moment.  Thanks to DCHS soph boys baseball team, Windsor Hts FD, and Altar'd for buddying the 9 AM game.  Our two adult teams are wrapping up the day–the Pirates vs the Tigers.  
PICTURE DAY IS TODAY–for regular and adult leagues.  ALL players and coaches wear your uniforms!
We could use more buddies for our 2 and 4 PM games.
NOTE:  We have POSTPONED our annual All Star games with the DMPD & DMFD.  New date is July 25.
And, remember, the Downtown Farmers Market is in full swing on Saturday mornings.  Avoid going through downtown; instead use ML King Parkway from the east and west, turning south on SW 5th St.
May 27: Thanks to Walnut Creek Church members who volunteered to be our buddies all day plus Wells Fargo Retail Services at 10 AM.  We managed to get three games in before the rain. 
************
 Need to register your player?  Click on

Register – Youth 5-18

to register online!
Are you 19 and over?  Plan to join one of our adult teams–the Pirates or the Tigers!  Registration is now  open for fall ball.  Room for more!  Click on
Register – Adult 19 & over.
Traffic/Parking Update
May 6 starts the weekly Downtown Farmers' Market.  Avoid going through downtown if you are coming in from the north.  Always best to take MLKing Parkway to SW 5th!
And if you're playing or volunteering for the 2, 3, or 4 PM games, please note that the north and south parking lot entrances along SW 5th Street will be closed with

yellow iron gates

due to home Iowa Cubs June 17 game at 7:08 PM.  The center parking lot gate will be open–just tell the parking lot staff that you are attending a Kiwanis Miracle League ball game to enter.
************
2017
Fun time for all at our second annual "away" games at the Ankeny Miracle League ball park May 22.  We will be hosting the Ankeny ML players Monday, September 18
2016
Our first ever Halloween Game Night was October 20.  Great costumes by young and old.  Fun games.  Good treats. And wonderful weather.  It was a perfect evening, and lots of fun for all.  Who knows?  Perhaps this will become an annual affair!
Our annual trophy/pizza party, October 15, was another winner!  Over 450 attended, ate all of the pizza, got to see themselves on the big screen video, and took home a trophy!  What fun! 
September 24, we welcomed several visitors from the Middle East–Egypt, Tunisia, Saudi Arabia, to name but a few.  Sponsored by the U. S. Dept. of State and the Iowa International Center, our visitors specialize in working with people with disabilities in their countries, and are here to see what we do in America.  They cheered on our players/buddies at the 1 PM game and actually buddied our 2 PM game.  Great fun!
September 12 was a special night as we hosted the players and coaches from the Ankeny Miracle League for two games.   All had a great time–and all players enjoyed a special treat in addition to the usual drink ticket–a hot dog!  Many thanks to the Southeast Polk Girls Softball Team for being our buddies!   
Thanks to the KML Board of Directors for putting all players and coaches in new uniforms this fall!  They are sharp!
2016 OPENING DAY VIDEO

Kiwanis Miracle League Opening Day 2016 from Brian Keairns on Vimeo.
Thanks to all for the wonderful 2016 SPRING SEASON.  Our last games of the Sunday were on June 25.  Unfortunately, Mother Nature didn't cooperate particularly well–we cancelled the afternoon games due to heat.
We had great fun for the Police & Fire Departments' ALL STAR GAMES on June 14!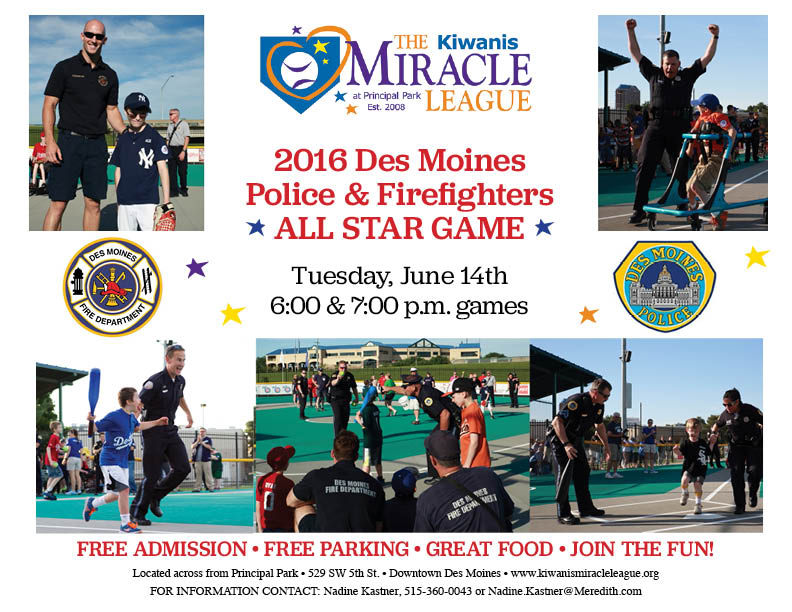 THERE'S ALWAYS TIME FOR BASEBALL!
May 23 was the first of what we hope are many "away" games for our Kiwanis Miracle League players.   THE GAMES WERE GREAT!  We had 24 players for the game at 6 and 16 for the 7 PM game plus 7 coaches and 2 managers!  And our players' new uniforms looked really snazzy!  We will be hosting the Ankeny Miracle League
Opening Day of our 2016 Spring Season was Saturday, May 7.  
THANKS to all who enjoyed FREE PIZZA at a special fundraiser at Pie Five Pizza opened in Ankeny.  Tips and 50% of proceeds from sale of desserts, salads, and drinks benefited both the Kiwanis Miracle League and the Ankeny Miracle League.
---
What we do
Kiwanis Miracle League is truly a miracle as it provides a place for children with special needs to enjoy our nation's pastime, Baseball.
But it is truly so much more than that. It is an opportunity for families to come together and enjoy the great outdoors and the spirit of competition. Or at least what WE call competition. You see, everyone bats, everyone scores and every came ends in a tie.
We also have space for dedicated volunteers, our "buddies" who help our players get the most out of the experience. Groups and individuals from all walks of life have volunteered to be buddies or our youngsters and we welcome you as well.  Click on "Volunteer" to learn more!
We also have been blessed with great supporters and financial donations to keep the field running.
Check out our sponsor section >>
One of the best parts about Kiwanis Miracle League is the concession stand and every player enjoys a free drink after the game. Our players LOVE that!
But most of all, Kiwanis Miracle League is something you must experience for yourself. Come out to a game this season!
Volunteer Now!
The Kiwanis Miracle League needs volunteers right away. Be a buddy, or volunteer in a variety of ways!
Click Volunteer to get started >>
Benefits
Improved Self Esteem
Make New Friends
Enjoy Some Fresh Air
Bond with Family and Friends
Eat Great Snacks
Play Ball
Baseball Quotes
"Baseball is the only field of endeavor where a man can succeed three times out of ten and be considered a good performer."
– Ted Williams, Red Sox
BrainyQuote
updated 6.19.17   10:15 AM