Kiwanis Miracle League
---
"Where there is great love there are always miracles." – Will Cather
We love our kids, and the kids LOVE to play baseball! Please help us continue to make miracles happen through your support of our resurfacing project this spring.
Click the Donate button below to read more at our CrowdRise page!

---
HAPPY  SPRINTER TO ALL!
That's winter & spring combined!
2018–Spring
Registration for our Spring League (both youth and adult) is now open.   Online registration is available 24/7–just click on one of the buttons on this page. 
We're getting a brand new playing field this spring.  Drive by to see the progress!  We'll be ready to play on it for the first time on

OPENING DAY, MAY 26th

!  Opening ceremonies at 9 AM.  Buddies will be Girls Softball Team from SE Polk HS.  Cubby Bear and Shrine clowns, lots of fun!  Plan to join us!
May 19:

  PLAN TO ATTEND and PARTICIPATE IF YOU ARE ABLE!  Des Moines Police Department's Annual 5K "Run with the Police".,   Saturday, May 19, 8 AM.  Gather at DMPD Headquarters, East 1st & Court, downtown.  $25 to register prior to May 18; $30 at Packet pickup or day of race.  Registration prior to the 18th guarantees you a Dri-Fit Shirt & Race Koozie.  Police vehicles will be on display.  Several activities for kids and families to enjoy.  This year's race benefits Kiwanis Miracle League and Easter Seals-Iowa.    More info at

RUNWITHDMPD.COM
---
Reminder when shopping for mom, support your Kiwanis Miracle League!… This Mother's Day, shop for Mom at smile.amazon.com/ch/26-1107946 and Amazon donates to Miracle League of Des Moines Kiwanis.

---
Kiwanis Signature Project Gold Winner: Kiwanis Club of Des Moines from Kiwanis International on Vimeo.
---
 2017–Fall
Thanks to the Kiwanis Club of Des Moines for naming the Kiwanis Miracle League a recipient of proceeds from the inaugural Kiwanis World Getaway!  The drawing was held December 13.  The lucky winner from Ankeny gets to travel anywhere in the world for dinner–and we understand she is going to Hawaii!  We hope to know SOON how much the proceeds will benefit our new playing field surface.
AND OUR 2017 SEASONS ARE NOW HISTORY!  THANKS TO ALL FOR SOME GREAT TIMES!  The ballpark has been "put away for the winter".  See you next spring!
---
OCTOBER 14:  OUR ANNUAL TROPHY/PIZZA  PARTY WAS A HUGE SUCCESS!  What a special time for all players to recognize our coaches and to receive their 2017 trophies…plus chow down on pizza, cookies, and all the fixin's!
---
Our Second Annual Halloween Party was October 12.  What a fun night!  Lots of great costumes!  Pumpkins and Halloween decorations throughout the ball park. Trick or treat plus treats for the

TEAL PUMPKIN

folks, too!  Free popcorn at our concession stand and many of  your favorite ballpark treats!
---
OCT 7:  Our last game day of the 2017 Fall Season.  Loads of buddies scheduled all day long.  Mother Nature did not cooperate!  We ended up cancelling the 9 AM and 1, 2, 3, and 4 PM games.  Honestly, what's with all this rain?
SPECIAL for 9/30:  WHO-radio broadcasted live from our ball park!  Many players and buddies had a chance to be "on the air".  And learned more about the "Kiwanis World Getaway", too!  This Kiwanis-sponsored fundraiser benefits the Kiwanis Miracle League.  Ticket sales conclude December 2.  Contact any Kiwanis member for your $10 chance to go anywhere in the world for dinner!
---
SEPT 30:  Weather hasn't been a problem–It's been lovely all day.  So come on down and enjoy one of our beautiful Iowa fall days.  And we will have visitors from Kiwanis clubs in Cedar Rapids and Iowa City–two communities where a ML ball park could be in their future!  It was a fun day, too, for several buddy groups.  Thanks to:  the Friendly Sons of St Patrick, Dallas Center-Grimes Kiwanis Key Club, Inner City Motorcycle/Social Club, and Pena's Boxing Club, and of course, Cliff.
---
SEPT 23:  Mother Nature gave us an extremely hot day, but we played all games except the 3 and 4 PM.  Nice complement of buddies throughout the day!
---
SEPT 18:  We "hosted" the Miracle League players from Ankeny!  Two games–6 & 7 PM.  Mother Nature cooperated after rain off and on all day!  Thanks to the girls softball team from SE Polk HS–our "angels in the outfield".  And we played under the lights.  And players and buddies enjoyed free pizza after the games!
---
SEPT 16:  We had a full day of games, beginning at 9 AM.  Buddies were a great help making the experience fun for all players.  Forecast was for a lovely day, and that came to be true.  Many enjoyed watching the players and sharing the joy!

 
---
SEPT 7:  Our Annual DMPD & DMFD ALL STAR NIGHT.  We played two games with the score of the first game being 40 to 40!  Great turnout of players, fans, and our special PD & FD buddies.  It would be a close call as to who had more fun!  When you see a police officer or firefighter, thank them for making our night so special. 
---
Thanks!…
Special thanks to Tommie Clark of KCCI and Al Knudsen and Matt Cowie, and Matt's Grandma and guardian for a heart-warming story on last night's news. In case you missed it, You can find it on KCCI
http://www.kcci.com/article/man-not-expected-to-survive-past-infancy-overcomes-obstacles/10038231
 

************
2017–spring
July 15 we welcomed "Journey of Hope" cyclists with two ALL STAR Games.  This group of young men annual rides across the U.S. honoring people with disabilities.  While it was hot, all who attended had a great time.
June 24 was our last Saturday of the 2017 Spring Season.  It was a beautiful day for baseball; Mother Nature finally gave us a lovely day.  Pictures were ready for pickup and we saw some great shots, both individual and team.  And it was DAIRY QUEEN DAY!  Free Dilly Bars for all players!  Thanks to area Dairy Queens for providing what has become an annual treat on the last day of the season!
May 27: Thanks to Walnut Creek Church members who volunteered to be our buddies all day plus Wells Fargo Retail Services at 10 AM.  We managed to get three games in before the rain. 
May 22:  Fun time for all at our second annual "away" games at the Ankeny Miracle League ball park May 22.  We will be hosting the Ankeny ML players Monday, September 18
**********
2016
Oct 20:  Our first ever Halloween Game Night was October 20.  Great costumes by young and old.  Fun games.  Good treats. And wonderful weather.  It was a perfect evening, and lots of fun for all.  Who knows?  Perhaps this will become an annual affair!
Oct 15:  Our annual trophy/pizza party, was another winner!  Over 450 attended, ate all of the pizza, got to see themselves on the big screen video, and took home a trophy!  What fun! 
Sept 24:  We welcomed several visitors from the Middle East–Egypt, Tunisia, Saudi Arabia, to name but a few.  Sponsored by the U. S. Dept. of State and the Iowa International Center, our visitors specialize in working with people with disabilities in their countries, and are here to see what we do in America.  They cheered on our players/buddies at the 1 PM game and actually buddied our 2 PM game.  Great fun!
Sept 12:  A special night as we hosted the players and coaches from the Ankeny Miracle League for two games.   All had a great time–and all players enjoyed a special treat in addition to the usual drink ticket–a hot dog!  Many thanks to the Southeast Polk Girls Softball Team for being our buddies!   
Thanks to the KML Board of Directors for putting all players and coaches in new uniforms this fall!
They are sharp!
2016 OPENING DAY VIDEO

Kiwanis Miracle League Opening Day 2016 from Brian Keairns on Vimeo.
Thanks to all for the wonderful 2016 SPRING SEASON.  Our last games of the Sunday were on June 25.  Unfortunately, Mother Nature didn't cooperate particularly well–we cancelled the afternoon
games due to heat.
We had great fun for the Police & Fire Departments' ALL STAR GAMES on June 14!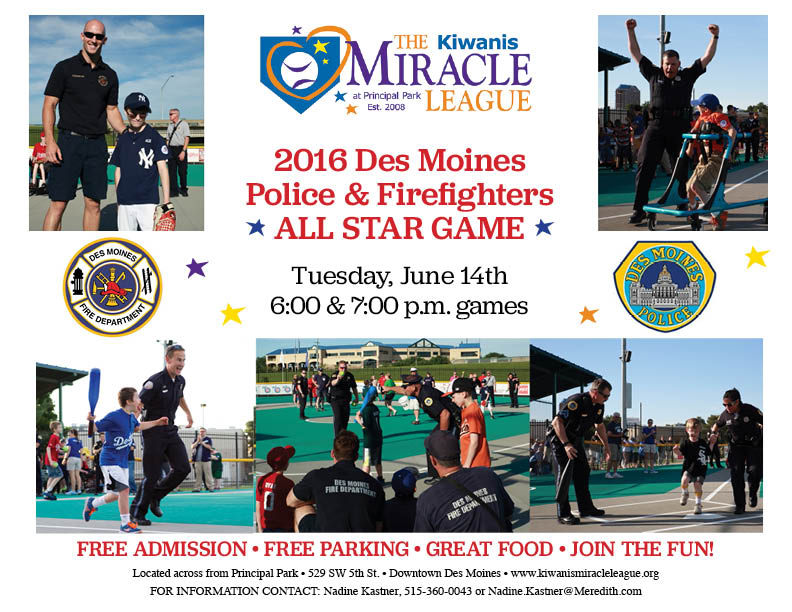 THERE'S ALWAYS TIME FOR BASEBALL!
May 23 was the first of what we hope are many "away" games for our Kiwanis Miracle League players.   THE GAMES WERE GREAT!  We had 24 players for the game at 6 and 16 for the 7 PM game plus 7 coaches and 2 managers!  And our players' new uniforms looked really snazzy!  We will be hosting the Ankeny Miracle League
Opening Day of our 2016 Spring Season was Saturday, May 7.  
THANKS to all who enjoyed FREE PIZZA at a special fundraiser at Pie Five Pizza opened in Ankeny.  Tips and 50% of proceeds from sale of desserts, salads, and drinks benefited both the Kiwanis Miracle League and the Ankeny Miracle League.
---
What we do
Kiwanis Miracle League is truly a miracle as it provides a place for children with special needs to enjoy our nation's pastime, Baseball.
But it is truly so much more than that. It is an opportunity for families to come together and enjoy the great outdoors and the spirit of competition. Or at least what WE call competition. You see, everyone bats, everyone scores and every came ends in a tie.
We also have space for dedicated volunteers, our "buddies" who help our players get the most out of the experience. Groups and individuals from all walks of life have volunteered to be buddies or our youngsters and we welcome you as well.  Click on "Volunteer" to learn more!
We also have been blessed with great supporters and financial donations to keep the field running.
Check out our sponsor section >>
One of the best parts about Kiwanis Miracle League is the concession stand and every player enjoys a free drink after the game. Our players LOVE that!
But most of all, Kiwanis Miracle League is something you must experience for yourself. Come out to a game this season!
Volunteer Now!
The Kiwanis Miracle League needs volunteers right away. Be a buddy, or volunteer in a variety of ways!
Click Volunteer to get started >>
Benefits
Improved Self Esteem
Make New Friends
Enjoy Some Fresh Air
Bond with Family and Friends
Eat Great Snacks
Play Ball
Baseball Quotes
"Baseball is the only field of endeavor where a man can succeed three times out of ten and be considered a good performer."
– Ted Williams, Red Sox
BrainyQuote
updated 5.11.18  2:55 PM