2016 SPRING AND FALL SEASONS
2016 OPENING DAY VIDEO

Kiwanis Miracle League Opening Day 2016 from Brian Keairns on Vimeo.
SPRING 2016
Our 2016 SPRING SEASON began with opening ceremonies on May 7.  It was so cool–the ZaGaZig Clowns, Cubby Bear, Central Campus ROTC, and the SE Polk Girls Softball Team made opening especially fun!  The whole day was  "some kind of ball".
May 23 was the first of what we hope are many "away" games for our Kiwanis Miracle League players.   THE GAMES WERE GREAT!  We had 24 players for the game at 6 and 16 for the 7 PM game plus 7 coaches and 2 managers!  And our players' new uniforms looked really snazzy!  We will be hosting the Ankeny Miracle League
THANKS to all who enjoyed FREE PIZZA at a special fundraiser at Pie Five Pizza opened in Ankeny.  Tips and 50% of proceeds from sale of desserts, salads, and drinks benefited both the Kiwanis Miracle League and the Ankeny Miracle League.
We hosted ALL of The Iowa Barnstormers on June 7th.  Not sure who had the most fun–the KML players or the Barnstormers?!
And June 14 was our annual DM Police and Fire Nights.  What great buddies!
And June 25 was our annual DAIRY QUEEN DAY!  Luv those Dilly Bars!
Thanks to all for the wonderful 2016 SPRING SEASON.  Our last games of the Sunday were on June 25.  Unfortunately, Mother Nature didn't cooperate particularly well–we cancelled the afternoon games due to heat.
We had great fun for the Police & Fire Departments' ALL STAR GAMES on June 14!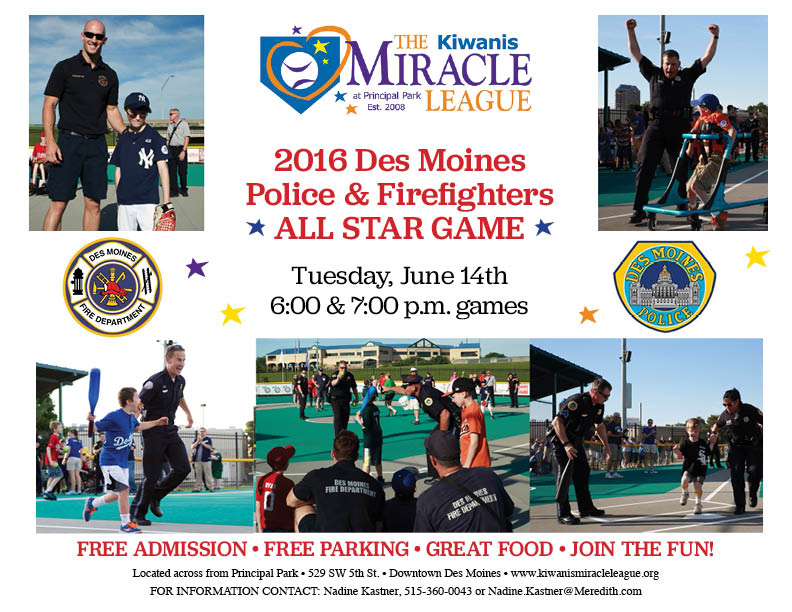 JOURNEY OF HOPE CAME THROUGH DES MOINES
We hosted a special event on Saturday, July 16.  Thirty bikers from The Ability Experience (formerly Push Across America) stopped in Des Moines on their way across the country.  Yes, across the country!  They started on the west coast and will end up on the east coast–and they've been doing this for 30 years!  It all started with a college fraternity member who wanted to "give back" once he graduated from college–so he began a group that biked for people with disabilities.  We played ONE GAME at 4:30 PM.  Afterwards, the bikers (all college age) attended the Iowa Cubs game across the street and were introduced to the crowd.
*******
FALL 2016
Fall Season began Saturday, August 27.  August 27 was also PICTURE DAY!  We played through October 8.
Oct 20:  Our first ever Halloween Game Night was October 20.  Great costumes by young and old.  Fun games.  Good treats. And wonderful weather.  It was a perfect evening, and lots of fun for all.  Who knows?  Perhaps this will become an annual affair!
Oct 15:  Our annual trophy/pizza party, was another winner!  Over 450 attended, ate all of the pizza, got to see themselves on the big screen video, and took home a trophy!  What fun! 
Sept 24:  We welcomed several visitors from the Middle East–Egypt, Tunisia, Saudi Arabia, to name but a few.  Sponsored by the U. S. Dept. of State and the Iowa International Center, our visitors specialize in working with people with disabilities in their countries, and are here to see what we do in America.  They cheered on our players/buddies at the 1 PM game and actually buddied our 2 PM game.  Great fun!
Sept 12:  A special night as we hosted the players and coaches from the Ankeny Miracle League for two games.   All had a great time–and all players enjoyed a special treat in addition to the usual drink ticket–a hot dog!  Many thanks to the Southeast Polk Girls Softball Team for being our buddies!   
Thanks to the KML Board of Directors for putting all players and coaches in new uniforms this fall!
They are sharp!
.
updated 5.25.18   6:50 pm